THE DIVA IS A BOHEMIAN GODDESS

Well, maybe not
EXACTLY
a Godess, but close enough, thanks to these fab new spring trends.
The Diva
loves this look. It's carefree, chic, stylish, and oh so easy to pull off. And it is everywhere! From tops, to skirts, to dresses, handbags, shoes,and even
hair accessories!
Do you have to do everything at once? Of course not. Add one or two things to your existing wardrobe and you can be a springtime
Diva
in no time.

One World Crochet-Trim Floral-Print Babydoll Top
$52.00
DKNY Jeans Sheer Butterfly-Sleeve Top
$69.00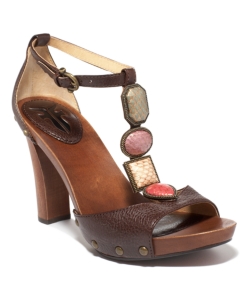 Frye "Dolly Jeweled" T-Strap Sandal
$198.00